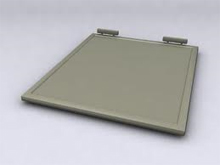 Dumpster Lids
Dumpsters are important pieces of equipment:they keep all the waste from a business or restaurant in one distant spot. Theyare made in different sizes and colors and they all come with lids. The lids are almost as important as the dumpster as they keep waste from spilling out!There are many people that don't maintain their dumpster if for even simple mistakes like leaving the lid open. You should always make sure that the lid is closedproperly as wind and storms can tear the lid off thus resulting in your dumpster being exposed year-round to rodents, insects and worse.
Easy to Close
Dumpsters are made to hold any type of waste inside: they can hold recyclable materials, organic waste, biohazardous waste and even grease. It's important to close the lid every time that waste is dumped.If you don't, you risk garbage spilling out or rain water getting in and rusting your dumpster!If you're going to purchase a dumpster, make sure you check the lid for durability and fit. When dumpsters aren't closed properly, animals such as rats, gulls and mice will enter the dumpster and find refuge from cold as well as having discarded food in the dumpster to sustain them!Even if you close the lid,if youdon'tfasten and lock it down, rodents can find their way inside. Mice have a knack for climbing up walls and getting in small spaces.
Easy to Lock
It's important to close your dumpster's lid tight in order to prevent trash from spilling over the topwhile keeping rodents from getting inside. Your best bet is to lock the dumpster to prevent homeless folksand "dumpster divers" from going through your waste. Dumpster diving has become very popular – often times people will go dumpster diving in hopes of finding personal information for the purposes of identity theft so be wary of anyone near your dumpster picking around, even if they look like bum. It's recommended that you check your dumpster to ensure that it's easy to lock.If your employees don't lock up, you stand the chance of finding a mess outside in the morning. More often than not the reason why dumpsters don't get lidded and locked is because employees find the task difficult!
Getting the Right Lid to Fit Your Dumpster
Nowadays, there are many different types of lids made for dumpsters. The right lid will be one that fits perfectly, is easy to lock and isn't too heavy. There's new technology being implemented in lids which features 100% recycled material and UV resistance. This means that besides being very practical,the lids are also tough. Dumpsters are made to be outside so it's important that the lids protect the waste kept safe inside. The right lid should also resist changes in weather and have a great resistance to impact. Make sure you ask around before making your final purchase.Check if the lid that already comesstock with your dumpster can be upgraded.